Kainoa, Founder and Head Coach of Pauole Sport, has been coaching athletes for over 20 years. She coaches all levels of athletes from the beginner/novice to the elite/professional, helping them achieve their athletic goals. Kainoa has worked successfully with hundreds of athletes and has a track record of success that includes coaching many athletes across the finish line of their first Iron Distance Triathlon and having more than 35 coached athletes qualify for the Ironman World Championships. She has coached many athletes to compete in some of the most prestigious and challenging races around the world, including: Ironman 70.3 World Championships, Boston Marathon, Ultraman Hawaii and Ultraman Canada, Norseman Xtreme Triathlon, Race Across America, and USAT Nationals and USAT Worlds.
Kainoa works at Seattle Performance Medicine Clinic as the Exercise Physiologist where she conducts performance and fitness testing on athletes. She has personal experience as a successful competitive triathlete and swimmer and a wealth of knowledge in Sports Performance and Sports Nutrition as an Exercise Physiologist. Kainoa combines Sport + Science to deliver her athletes focused and purposeful training cycles that get results.
Training and Knowledge
Kainoa earned a Master of Science Degree in Kinesiology and Exercise Science from California State University, Long Beach. She holds a USAT Level 1 Triathlon Certification and is a Slowtwitch Power Cycling Coach. Kainoa is also a Certified Strength and Conditioning Coach and Certified Personal Trainer from the National Strength Conditioning Association (NSCA). She is a former full-time faculty member at the University of Hawaii in the Health and Physical Education Department where she taught Exercise Physiology, Sports Nutrition, Prevention and Treatment of Athletic Injuries, and Principles of Coaching. Her extensive training and knowledge ensures that every client receives the most current research-based training programs.
Personal Experience
Kainoa is a lifelong competitive swimmer competing through the collegiate level. She has coached all levels and abilities of swimmers from the age-group to the master's level, is on the deck as the coach of Pauole Sport's masters swimming and the Sammamish Y Masters. Kainoa is an accomplished age-group triathlete versed in all triathlon distances. She competed in eight 70.3 distance races and numerous Olympic and Sprint distance triathlons. Kainoa is a two-time finisher of the Ironman World Championship with a personal best of 11:40:07. She has completed ten marathons with a personal best of 3:33:05 at the Seattle Marathon. Kainoa's most recent triathlon accomplishments include: 1st place at the SwimRun Short Course Solo Division and 1st place in age-group at the Seattle Half Marathon in 2018, 1st place in her age group at the 2016 San Francisco Triathlon at Alcatraz. She uses her years of personal experience as an athlete and coach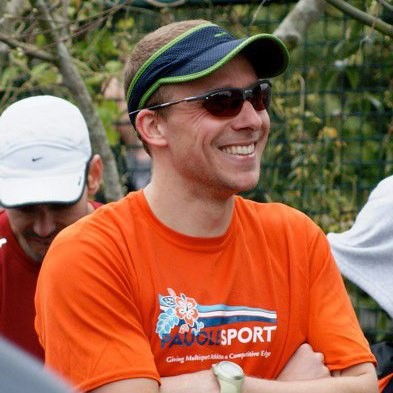 Jake's passion for competition and sport lead him to coaching. Jake has a strong background in Exercise Science and a vast knowledge in sports injury rehabilitation and prevention. Jake has a B.S. in Exercise and Sport Science from Penn State University. He also holds a Doctorate in Physical Therapy and works with athletes on a daily basis to help promote injury prevention. Jake was an All-American distance runner for Penn State University and has run 2:36 at the Boston Marathon. Jake is a successful triathlete at all distances. He was ranked #1 in the Northwest in the half Ironman Distance and was named a USAT All American. Jake is a 3 time Ironman finisher with a personal best at Ironman Canada 2007 of 9:52, earning him 41st overall (6th age-group) and an Ironman Hawaii World Championship qualifying slot. Seven weeks later Jake took his fitness and dreams to another level and completed 140.6 miles in the windy and hot conditions of Kona in 10:30.